Our Wood Floors: Ordering, Installation and Maintenance
Wood flooring is available with almost endless combinations of texture or grade, grain, and colour finish. The sheer number of options on offer could mean that you find yourself struggling to make a decision on the perfect look for your home or business. We have built our business via personal recommendations. This is partly because we spare no effort to help you make the right choice, and to pick a floor that's just right for you – one that you will be happy with for years after it's been fitted.
View Samples at our Showroom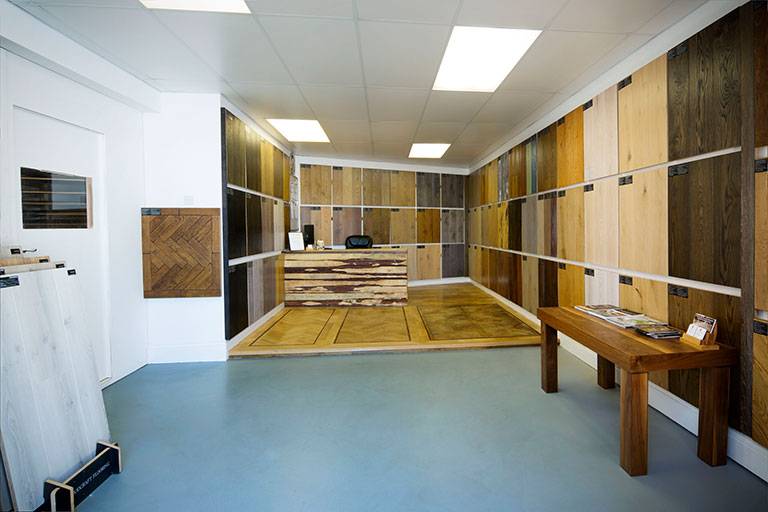 If you come to our showroom in North London you will have the opportunity to view a demonstration floor (10 square metres) and see for yourself the variations in the surface of the planks that make every floor different. We can also carry out a detailed consultation at your home or business premises if you prefer. You'll receive practical and straightforward advice on every aspect of choosing and owning a wood floor, with all details explored and discussed thoroughly until you are confident that you are making a well-informed and sound decision on the particular look that best suits you.
The Site Survey
Once you have made your initial choice, we will conduct a site survey – that is, a visit to carry out a thorough inspection of the room(s) where your wood floor is to be installed. During our visit we will take moisture / damp readings, and inspect the sub floor (the surface on which your flooring will sit) to make sure it is thoroughly prepared. We will also bring a sample of your chosen floor so that you can see it 'in situ' and be sure that it is exactly what you want. If it is not, then we will arrange another visit to bring more samples.
Once the inspection is complete and you are happy to go ahead, you'll receive a detailed report explaining any necessary steps that might be required prior to installing your wood floor. This is to make absolutely sure that there are no problems when our craftsmen turn up for the fitting.
Making Your Floor
Our floors are made to order from start to finish; not one plank will have come from stock. Once we are sure that the site is ready, and that you have made a choice with total confidence, we will place the order for the planks with our manufacturer. From that point it is usually four weeks until we are ready to install a floor of average size (say 50 square metres, or 100-120 planks). The time varies a little from species to species, but generally it breaks down to:
two weeks for the planks to be made, packed and shipped to our workshop; and
two more weeks for the planks to be finished by us, by hand.
Depending on your specification, we might use some or all of the following: distressing techniques (using hand tools only), colour finishes, clear finish, and oil. Some looks require multiple coats to achieve (the exact method being a trade secret), and each coat is carefully applied by hand and left to dry before the plank is ready for another.
If you want your floor distressed then it will take longer to make, because our founder Mursel will not allow anyone else to distress planks. Larger floors with more planks will also take longer, with the planks being finished and fitted in stages.
Once all the planks are ready we will contact you to arrange the installation.
Installing Your Floor
Delivery and fitting at a time and date to suit you is assured. You will be kept up to date with progress and consulted at all key stages. You choose your level of involvement – it is entirely up to you.
Our installations are always finished to your exact requirements, with care and attention paid to each and every plank. For example:
any boards that do not blend in with the complete floor's desired texture and grain (perhaps because they are too 'rustic' or rough in appearance) are replaced;
any patches or other noticeable variation in the oiling of the individual planks will not be tolerated.
The result is a uniform appearance, to your specifications, across the entire floor.
Our expert tradesmen will make and fit door bars, bespoke stair nosing and all other trim required on site.
Our Three Guarantees
We are extremely confident in the quality of our products and of our installations, and so we offer two guarantees:
5 Years On Installation
All installations are guaranteed for five years – all species of wood, all types of flooring.
25 Years finish on ALL Engineered Boards and Parquet Blocks
All engineered products, including parquet boards, in any species. We also off the same guarantee our solid Oak planks (as long as they are not used with underfloor heating) and solid parquet blocks of any species.
Lifetime on all our wood flooring
All products that we supply will have a lifetime structural warranty, its is as simple as that!
Maintenance
At the end of the installation, we will give you information on how to care for your wood floor and prolong its life. Any reputable company will do the same. We will also give you the materials and tools required to keep your new floor clean. Again, other reputable companies will also do this. What sets Woodcraft apart from other businesses is the exceptional level of care and service that you will experience after the installation.
Maintenance Packages:
Package 1: We stock the oil you would require to carry out the maintenance yourself and advise you on how to apply this on your floors, this will come at an extra cost which will be disclosed in your quote.
Package 2: We are able to offer a meter rate for maintaining your wood flooring, the price is dependant on the style and size of your wood flooring. Within our maintenance package, the price will include oil, labour, and tools used to carry out the maintenance.
Give you ongoing support and advice on any and all problems you have that prevent your floor from looking great.
We provide the above services because we care deeply about providing the very best quality product and service, and we want you to love your floor as
This is what makes us so different. Simply put, we treat each and every floor we make and fit as if it were our own.
Contact us

0208 616 0575

Unit 17
Stirling Industrial Estate
Stirling Way
Hertfordshire
WD6 2BT

Showroom is Open
Monday to Saturday
9am to 6pm